Exercise is not the only thing that will make you lose weight fast. What you eat matters a lot. While no one food can help with your weight loss program, certain foods can help you lose weight and are also delicious.
Most people, perhaps including yourself, may say that delicious food can't help you lose weight. Doesn't that sound too good to be true? The real truth is that weight loss is simple math. You need to burn more calories as you eat.
Weight Management
Eat more, but lose more! Can you believe that? What food can help you slim fast? Healthy eating is a practice that can help control and prevent health problems, including high blood pressure, heart disease, type 2 diabetes, and many forms of cancer.
Contrary to popular belief, eating the foods that are low in calories will not help your fat loss goal. Instead, you need to fill your diet with healthy foods that will make you full, increase your energy, and have enough calories to maintain your metabolism.
Weight loss and health are not the same. If you want to lose weight fast or even just maintain your weight, you need to find what foods work for you. There are delicious foods to help you eat healthier and quickly become slim.
Different foods are processed differently by your body. Each food has different effects on your hormones, the number of calories you burn, and of course, your hunger levels.
The number of calories you always eat matters. However, you should also take into consideration other factors that are important to healthy eating, including:
How your body will feel after eating these foods;
The nutritional content of the meals;
How full you will feel after eating these foods;
How your body will feel 6 hours after eating these foods;
Will these foods make you crave for more?
Eating the fewest calories possible does not mean that you will lose more weight. You need to eat the most nutrient-dense foods and remain within your ideal calorie range, which will make you lose weight fast.
The higher the quality of food you eat, the less food your body will feel it needs. Focusing on consuming healthy foods, rather than on the calorie count of foods, will give you these benefits:
Lose weight naturally.
Have healthy and vibrant skin.
Boost your energy
Have a better perspective toward dieting.
Have a better outlook and mood.
All these benefits will make your 'lose weight fast' process a lot simpler.
Choosing foods that will help you Lose weight
When on a fat loss program, it is essential that you should be mindful in selecting the foods you eat and how you eat them:
Baked, grilled, or broiled food;
Foods high in protein;
Lean proteins such as chicken, turkey, beans, fish, and eggs;
Foods that are high in fiber;
Calorie-free beverages;
High-quality fats.
Even if you are eating healthy foods, you still need to be mindful of the portion sizes. Many people tend to eat unhealthy foods because they are delicious. In this, we need to acknowledge that eating healthy to lose weight does not mean eating foods that are not delicious.
Delicious Foods to help you Lose Weight Fast
Include these foods on your grocery list, and you will notice that you will not only slim fast but also feel better about yourself. As a bonus, these foods are delicious, too.
Almonds
Almonds are rich in fiber and high in protein. Eating almonds will make you feel fuller longer and will prevent you from eating unhealthy snacks in between meals.
Almonds are a good source of polyunsaturated fats and mono-fats for a healthy heart. Almonds are also rich in vitamin E.
Almonds can be sprinkled over a side dish or salad. You can also use almonds to replace pine nuts or walnuts and top them on your granola. You can also throw in a small bag of almonds in your purse for snacks.
Apples
An apple's skin will give you a good supply of fiber, which will allow you to eat fewer calories. A medium-sized apple usually contains 4 grams of fiber. Apples also contain antioxidants that help prevent metabolic syndrome, which may put you at risk of developing heart disease, obesity, and other health issues.
Apples are ideal snacks that are low in calories, and you can take them in your purse. You can also make an apple pie with slices of apple sprinkled with cinnamon and allspice.
Avocado
Every ¼ of an avocado contains 7 grams fats making it an ideal food for fat loss. The fruit's fat content has mono-unsaturated fat that increases that fullness feeling, that is healthy for the heart. It is also super delicious because of its creamy taste.
A whole avocado, however, contains about 322 calories; thus, portion control is essential. Replace mayo with avocado to add a buttery texture to your sandwich. You can also mash avocado on toast and have it for breakfast together with a hardboiled egg.
Organic, Lean Chicken Breast
A large amount of protein in your diet is vital to reach your fat loss goals. Eating organic and lean chicken breast makes you full and eliminates your cravings. It also does not have high-calorie content.
If you think that chicken is boring and bland, season chicken breast with pepper, turmeric, and Cajun seasoning to whip up a delicious meal that will also make you slim fast.
Dark Chocolate
A list of the best foods for fat loss is never complete without the heavenly dark chocolate. Dark chocolate contains flavonoids, which are antioxidants that promote a healthy heart. Dark chocolate with 70-85% cacao includes 64 grams of magnesium and 3 grams of fiber, which supports muscle and nerve function, bone strength, and immune heart.
Create salted pistachio chocolate bark, dark chocolate turtles, or popcorn covered with dark chocolate.
Popcorn
Popcorn without butter is an excellent slim fast snack. Popcorn contains some protein and is rich in fiber. About ¾ cup of popcorn contains 4 grams of protein and 110 calories, which is a delicious snack. Popcorn is almost all air, so most of it does not have a lot of calories. You can consume 3 cups of popcorn and take in only 100 calories.
Air-popped popcorn also contains some healthy carbohydrates that can help you lose weight. Popcorn contains fewer calories and complex carbohydrates, which slowly digest, thus, keep you fuller longer.
Buy plain popcorn instead of the pre-made salty versions and do the seasoning yourself. You can also combine popcorn with chocolate chips and almonds for a healthy snack.
Salmon
Salmon is rich in omega -3 fatty acids, which can help you feel more satisfied when counting calories. Salmon is a versatile and delicious way to get your two weekly servings of recommended fish that are healthy for your heart.
Salmon is healthy for you, and it can also help you slim fast because the omega-3 fatty acids help build your muscles. More muscles allow your body to burn more calories. Enjoy delicious salmon fillet by just seasoning it with salt and pepper and cook in a hot frying pan with a little oil for about 4 minutes on each side.
Lean Steak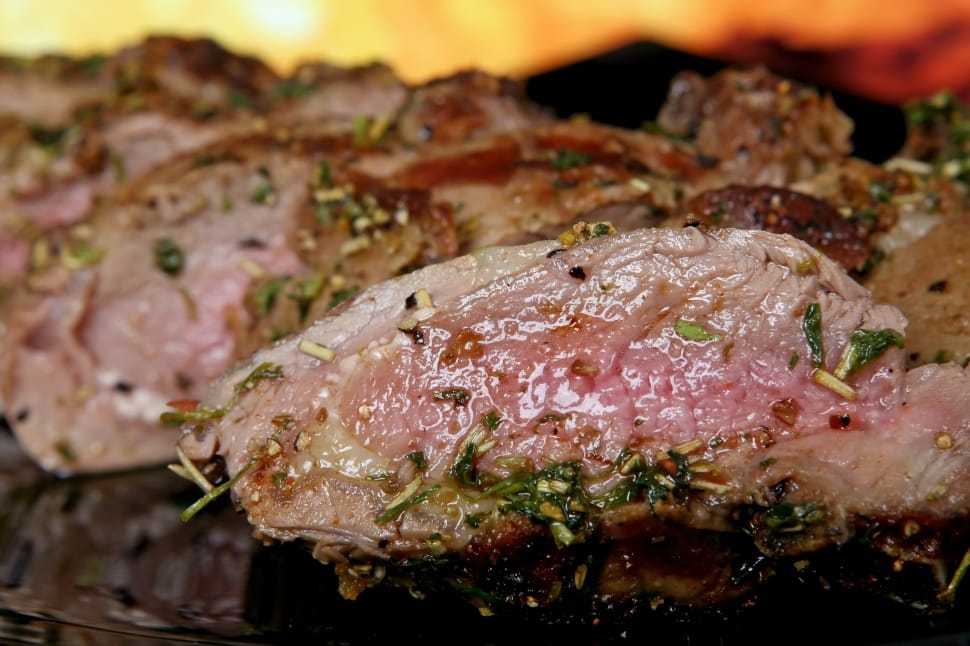 Too much beef can hurt your weight loss goal fast because it contains saturated fat. A 4-ounce piece of sirloin steak, on the other hand, contains 36 grams of protein, which may help you shed pounds.
Watermelon
The pretty color of watermelon is due to its antioxidant lycopene content. Lycopene is a juicy and delicious way to keep you hydrated. Staying hydrated at all times is a significant factor in your fat loss goals.
Drinking lots of water – the recommended eight glasses daily – allows your system, including your metabolism, to work at maximum capacity. When you are hydrated, you will never confuse thirst for hunger, which can make you tend to overeat.
One cup of watermelon only contains 46 calories but keeps hydrated and feeling full. Pair watermelon with almonds and create a delicious low-calorie cocktail.
Yogurt
Traditional Greek yogurt can be useful for your slim fast routine. This plain, natural yogurt contains probiotics that boost your digestive health. It is also suitable for your weight loss diet. However, stay away from the low-fat variety because they have added sugar.
Granola-Style Snack Bars
A traditional granola-style snack bar is low in calories. Many granola bars contain less protein but hold a lot of whole grains that will keep you satisfied and full for long hours, making it ideal for dieters.
Final Thoughts
Choosing food for your 'lose weight fast diet' is not all about calories. You need to choose delicious food, satisfy your need for a delectable meal, and prevent yourself from craving for sweets. It should also be able to provide your body with all the nutrition it needs for your overall wellbeing.
Thankfully, all the foods mentioned above are delicious; packed with nutrients your body needs; and will help you lose weight fast.